Boy have I not Blogged
Mood:
mischievious
Topic: What a Summer

I'm getting so much email and so many hits lately it's amazing.
Let me start with our summer. We planned to do over all the bedrooms and give my son my wife's big room so he can have plenty of room for fun, games and friends. That way our living room will remain somewhat clean. We scrimped and saved for paint, new furniture from Bob's Discount Furniture, and we got super deals on decorative ideas on EBay. For my son's room we painted it Sandy brown. I struggled to paint the edging while my 12 year old Sara did a fantastic job rolling the paint. (Siobhan has had a bad back since December.) I struggled, took my time, then slept for a week. We got a baseball diamond rug, brand new, for practically nothing. I had tons of baseball memorabilia from my card collecting days in the 1980's, and we found great deals on bedding that he needed badly. He had been sleeping with my wife in her extra, extra firm double bed. She moved to his room and we painted it a pink. She decorated her room with floral swags, painted his fairly modern wardrobe with a distressed look and brought in her antique dressers our friends gave us last year which included another wardrobe to hang clothes. She ordered herself a new full size bed and mattress (which is like sleeping in heaven and has been great for her back). Sara wanter her room a woodland mossy green from floor to ceiling. The hardwood floor in her room was ruined by the previous owners whose incontinent aunt almost always missed the "spot" [d'oh]. Thus we painted Siobhan's new floor and Sara's floor with off white deck paint. I was impressed with what two ailing parents and two youngsters could do. Sara also got new dressers but got Siobhan's old bed - we put a pillow top over the mattress. We saved a lot of money - each loved their room - and Aidan loves his new play area. I'm still in the living room.
Well hell started to break loose. The plumber who ruined our plumbing who was suing us for payment wanted $10000 for a 1400 dollar bill. We were in default because our old lawyer who was in trouble with the bar had neglected to send us a court appearance notice. I borrowed what little my Dad had to share and I prayed to the Blessed Mother. You see we had contacted the state of Connecticut and the plumber was a licensed heating man at the time of the work but not a licensed Plumber (he was a friend of a friend so we just assumed - you know what happens when you assume). We found out the State could go after him for $10000 (not that we would get any). The lawyer who took the case from our old lawyer (also a friend of that same friend) would not take the case even though he accepted all her files as a favor to the courts. We found a lawyer, the father of one of my son's tiger scout buddies. He volunteered to work pro bona and we knew he was good - he prosecuted the Enron case! The court still said we should have known about the court appearance and that was against us. Otherwise our newest lawyer said we could have nailed the plumber to the wall. To the courts it looked like we just ignored our court appearance. Our lawyer mentioned to the plumbers lawyer how we could file a complaint with the state and it would wipe out any money he got from us so if they settle for the original bill we would settle out of court. They said yes (I prayed five rosaries to our Blessed Mother that day - a story for another day) When I finished the last prayer a rush of adrenaline surged through my body, our lawyer called and said they agreed on the low settlement.
Siobhan thought we had an extra month extension on our car loan until the finance company took it away. It cost us two car payments but the worst part was the cost that the repossessors charged and the fee to return the car. We borrowed money from Siobhan's folks for the car payments and her dear cousin Bob helped us with the outrageous repossession fees as well as giving us some money for our other bills.
All of a sudden everyone wanted money "yesterday". We had to use some of our settlement agreement that we had to pay our bills and feed our family as Siobhan quit her new job at a Children's Medical home because I had pneumonia and it was unfair to them to keep calling out. She was also on the verge of a nervous breakdown.
The Church gave us money while Siobhan looked for a new job and my father loaned us what little he had left to share. Money went out and out and out. We ate pasta and cereal on sale.
Things settled down, Siobhan asked to go back to her job before the Children's home which she starts in one day, my disability and SSDI is coming in. Money goes out for school clothes but the only bill we are behind on is our cable. She'll work Mon, Tues, & Wed from 11PM to 7AM so she can see the kids off to school, sleep and be awake when they get home. Cub scouts is every other Monday, Catholic education is every Tuesday (Aidan receives his first Holy Eucharist this year so this is essential) and his baseball is on the weekends which she finally has off for the first time in 2 years.

She is back to volunteering with drug education at school - last year was so tough she neglected her volunteer work. She is even responding to email from this site. She likes to talk to the spouses who email - feel free to email her.
PAGE VIEWS by Tripod Your site had 116 page views yesterday. Total page views this month: 2845
We are on the right path. More stories this week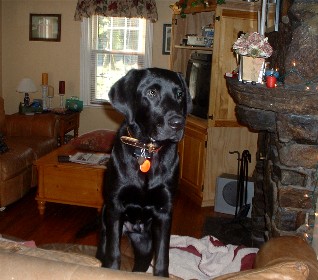 Our 8 month old 80 pound pup - Sully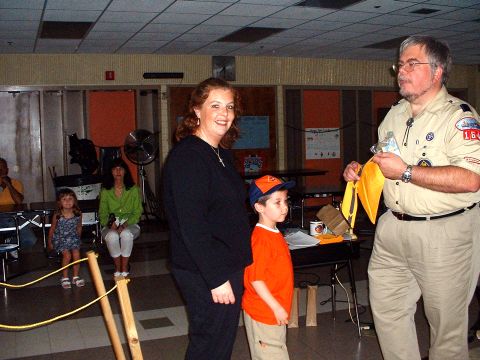 Aidan advances to Bobcat from Tiger scout. Siobhan with him

Love to all of you
Tim
Tuesday, August 24, 2004 2:29:15 AM